File Specification
---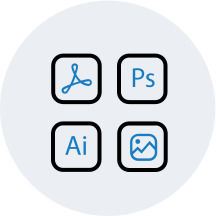 File formats
The preferred file format for printing is PDF. We also accept JPG, JPEG, PSD, PNG, TIF, TIFF, EPS, AI, Publisher, DOCX, DOC, XLS, XLSX, PPT, PPTX, TXT and CSV files
Artwork requirements
We require artworks to be in CMYK color space and have a minimum resolution of 300dpi. A 0.125" bleed from each side of artwork is required for most products.
Maximum file size
Maximum allowed 100 MB. If your file is larger than 100 MB. Please contact Customer Service for assistance.
Element sizes
We recommend to keep small texts at 8pt and thin lines at 0.5pt to avoid problems during printing.
---
Template Guidelines
---
Bleed is the area that is cut off after printing process has been completed

Bleed area
A bleed area is when an image extends beyond the cut line of the printed product. If your image is not white on all four sides, you MUST include an extra 1/8" (0.125") on each side of the card to be trimmed after the printing is complete. For example, if you are ordering a 3.5" x 2" business cards, you would set your artwork size to 3.75" x 2.25".

Cut line
The cut line is where your product will be trimmed to, once the bleed area is removed. But please remember, due to cutting tolerances of printing, the cut may shift up to 1/16 of an inch in any direction.
Safe area
A safe area is a margin within the cut line which will prevent text or type from being cut off. It is imperative that no text or essential parts of your artwork come within 1/8" of the trim line. Due to mechanical tolerance during the cutting process, any content within 1/8" of the trim line may be cut off.
---
Proofing
---
What is a PDF proof?
It is a PDF document we prepare upon your request, so you can review your design for details like trim lines, folding lines and colors before we print your order.
Will requesting a PDF proof delay my order
Possibly. Proofs approved before 5PM PST will go into the printing queue that day. Proofs approved after 5PM PST will go into the printing queue the following day. Learn more about our troundaround calculation method here.
How long does it take for PDF proofs to get ready
If you request for a PDF proof, it will be ready within 6 hours after you place your order. You will receive an email notification once your proof is ready. You will need to go to Your Account to review and approve your proof so we can continue processing your order.

Note: On rare occasions, we find issues in your files that require further input from you. In such cases, our experts will contact you within 24 business hours to work with you on a resolution.
What if I find a problem in my PDF proof?
If you notice any issues in your PDF proof, you can reject it and request a new one with additional comments or instructions, or you can submit a new file. You can always contact Customer Service if you need further assistance with your files.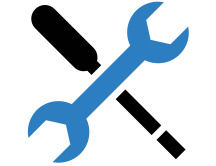 Do you correct possible spelling errors in my artwork?
No. We do not change text or art. We only fix print-related technical issues found in your file.